Need some help with getting set up? We've provided this step by step guide to walk you through creating your account and making your first payment. Here is a video to show the tenant experience with Azibo from start to finish.
Step 1: Check your email and/or texts
Invitations to Azibo are sent once your landlord has set up rent collection on their side. Your email or text will have a button or link to follow to sign up. If you haven't received an invitation, ask your landlord to double check that they entered your contact information correctly. You might also need to check your spam folder.
Step 2: Create your free account
Create a password for your account. After that, you'll be asked to enter verification code that we'll send to your email. Once you've entered the code, you'll be redirected to sign in, where you enter your email and the password you created.
Step 3: Review your rent payment terms
Make sure the payment terms are accurate to what your lease agreement says. If it's different, reach out to your landlord.
Step 4: Set up a payment method
You have two options for how to pay: by linking a bank account (free), or by debit or credit card (2.99% fee).
a) To pay directly from a bank account, you'll be guided through signing in using the username and password you use for your bank using a platform called Plaid. Plaid is secure and private, meaning your information will never be sold or shared.
b) To pay by debit or credit card, enter your card information and your address.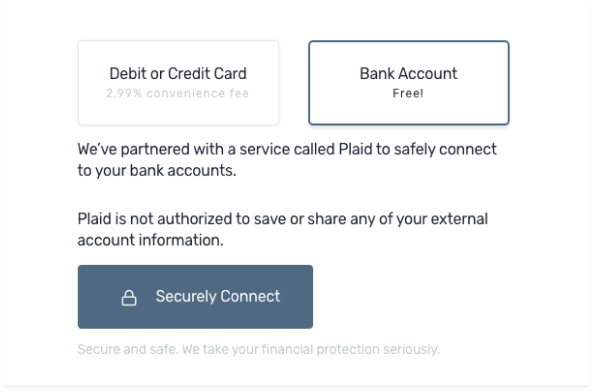 Step 5: Make or schedule a payment
Once you're set up, you'll be taken to the home page, where you'll see any scheduled payments, like a security deposit or rent. When you're ready to pay rent, click "Pay." You'll choose your payment method and the payment date (keep in mind it can take up to 5 days for the first payment to process, and all payments after that will only take 2–3 business days). Once submitted, it will say "processing" until the landlord receives it, at which point it'll say "paid."

Congratulations, you've just made your first payment on Azibo!
Step 6 (optional): Set up AutoPay Rent
You can set up AutoPay to make sure that you never miss a rent payment. Just switch the toggle on, select your payment method and the payment date, and you're set up!